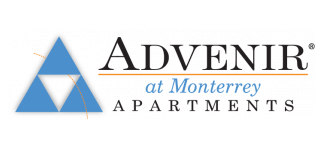 Amenities
Apartments In Venice Florida For Rent
Beautiful apartments in Venice, Florida for rent also come with the amenities that will have an impact on your daily life and long-term satisfaction when you choose Advenir at Monterrey. Our premium features include ceiling fans, upgraded window coverings, and screened patios and balconies so you can make your home just as comfortable as you'd like while maximizing on functionality. Invest in a home that not only works for you but allows you to thrive, in your space and in shared spaces (including two swimming pools, a spa, and a sun lounge). See it all today!
Contact us
to learn more.
Community Amenities
Online Payments Available

Accepts echeck payments
Accepts credit card payments
Accepts cash payments via MoneyGram
Open parking not assigned

2 Swimming Pools

Cardio Workout Room

Pet Friendly

Walking Trail
Spa

Laundry Facilities

Business Center

Bark Park

Club House
Apartment Amenities
Certain floor plans may have different amenities depending on when they were updated, what building they're in, etc. To tour our floor plans and see what amenities may be available, please call us at (941) 497-2545.
Air Conditioner

Washer/Dryer

Rate : $35.00 Rate : $35.00 Rate : $35.00 Rate : $35.00 Rate : $35.00 Rate : $35.00 Rate : $35.00 Rate : $35.00 Rate : $35.00 Rate : $35.00 Rate : $35.00 Rate : $35.00 Rate : $35.00 Rate : $35.00 Rate : $35.00 Rate : $35.00 Rate : $35.00 Rate : $35.00 Rate : $35.00 Rate : $35.00 Rate : $35.00 Rate : $35.00 Rate : $35.00 Rate : $35.00 Rate : $35.00 Rate : $35.00 Rate : $35.00 Rate : $35.00 Rate : $35.00 Rate : $35.00 Rate : $35.00 Rate : $35.00 Rate : $35.00 Rate : $35.00 Rate : $35.00 Rate : $35.00 Rate : $35.00 Rate : $35.00 Rate : $35.00 Rate : $35.00 Rate : $35.00 Rate : $35.00 Rate : $35.00 Rate : $35.00 Rate : $35.00 Rate : $35.00 Rate : $35.00 Rate : $35.00 Rate : $35.00 Rate : $35.00 Rate : $35.00 Rate : $35.00 Rate : $35.00 Rate : $35.00 Rate : $35.00 Rate : $35.00 Rate : $35.00 Rate : $35.00 Rate : $35.00 Rate : $35.00 Rate : $35.00 Rate : $35.00 Rate : $35.00 Rate : $35.00 Rate : $35.00 Rate : $35.00 Rate : $35.00 Rate : $35.00 Rate : $35.00 Rate : $35.00 Rate : $35.00 Rate : $35.00 Rate : $35.00 Rate : $35.00 Rate : $35.00 Rate : $35.00 Rate : $35.00 Rate : $35.00 Rate : $35.00 Rate : $35.00 Rate : $35.00 Rate : $35.00 Rate : $35.00 Rate : $35.00 Rate : $35.00 Rate : $35.00 Rate : $35.00 Rate : $35.00 Rate : $35.00 Rate : $35.00 Rate : $35.00 Rate : $35.00 Rate : $35.00 Rate : $35.00 Rate : $35.00 Rate : $35.00 Rate : $35.00 Rate : $35.00 Rate : $35.00 Rate : $35.00 Rate : $35.00 Rate : $35.00 Rate : $35.00 Rate : $35.00 Rate : $35.00 Rate : $35.00 Rate : $35.00 Rate : $35.00 Rate : $35.00 Rate : $35.00 Rate : $35.00 Rate : $35.00 Rate : $35.00 Rate : $35.00 Rate : $35.00 Rate : $35.00 Rate : $35.00 Rate : $35.00 Rate : $35.00 Rate : $35.00 Rate : $35.00 Rate : $35.00 Rate : $35.00 Rate : $35.00 Rate : $35.00 Rate : $35.00 Rate : $35.00 Rate : $35.00 Rate : $35.00 Rate : $35.00 Rate : $35.00 Rate : $35.00 Rate : $35.00 Rate : $35.00 Rate : $35.00 Rate : $35.00 Rate : $35.00 Rate : $35.00 Rate : $35.00 Rate : $35.00 Rate : $35.00 Rate : $35.00 Rate : $35.00 Rate : $35.00 Rate : $35.00 Rate : $35.00 Rate : $35.00 Rate : $35.00 Rate : $35.00 Rate : $35.00 Rate : $35.00 Rate : $35.00 Rate : $35.00 Rate : $35.00 Rate : $35.00 Rate : $35.00 Rate : $35.00 Rate : $35.00 Rate : $35.00 Rate : $35.00 Rate : $35.00 Rate : $35.00 Rate : $35.00 Rate : $35.00 Rate : $35.00 Rate : $35.00 Rate : $35.00 Rate : $35.00 Rate : $35.00 Rate : $35.00 Rate : $35.00 Rate : $35.00 Rate : $35.00 Rate : $35.00 Rate : $35.00 Rate : $35.00 Rate : $35.00 Rate : $35.00 Rate : $35.00 Rate : $35.00 Rate : $35.00 Rate : $35.00 Rate : $35.00 Rate : $35.00 Rate : $35.00 Rate : $35.00 Rate : $35.00 Rate : $35.00 Rate : $35.00 Rate : $35.00 Rate : $35.00 Rate : $35.00 Rate : $35.00 Rate : $35.00 Rate : $35.00 Rate : $35.00 Rate : $35.00 Rate : $35.00

Heating
Cable ready

Balcony

Dishwasher